LG S65Q 420W 3.1ch High Res Audio Sound Bar with DTS Virtual:X
1299
Details
Helping You get the most out of Your LG TV
LG Sound Bars are engineered to seamlessly enhance LG TV performance and designed to match LG TV. Together, the two create the best sound experience.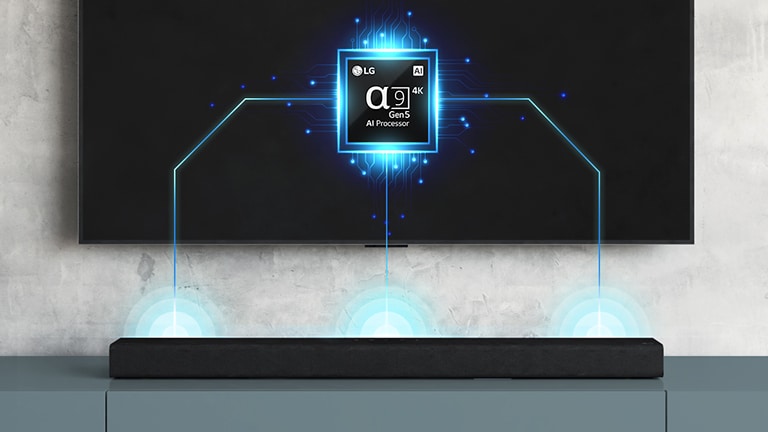 Elevated Sound with LG TV's AI Processor
The perfect match for your LG TV, the LG Sound Bar has TV Sound Mode Share, which uses your LG TV's sound processor to analyze the content you love and deliver clearer, better sound. From watching the news to playing games, you can experience your LG TV at its best.
*TV Sound Mode Share may vary by TV models.
**TV AI Processor version varies by TV models.
Designed to match
LG Sound Bars seamlessly match with LG TVs to enhance your entertainment and interior. Simply set LG Sound Bars with LG TV to make your space look modern.
The LG TV Remote for Maximum Convenience
With the LG TV Remote, convenience is turned up a notch. You can control the sound bar's power, volume, and sound modes with the same remote you use for your LG TV.
*Sound Bar Mode Control may vary by sound bar models.
**LG TV Remote usage is limited to certain features only.
Immersive 3.1ch Powerful Sound
3.1 Channel Audio, 420W power – LG Sound Bar S65Q lets you enjoy your favorite home entertainments with surround sound.
*This product is excluded from the rear speaker.
Meridian Audio Technology
Partnering up to Advance Sound
LG's partnership with Meridian Audio, a leader in high-resolution audio, is synonymous with solutions that have elevated music and movie enjoyment to the next level. Experience the ultimate sound performance with LG Sound Bars.
High-Resolution Audio as It Was Meant to Be Heard
High Resolution Audio delivers 96kHz sampling rates and 24bit depth, for more accurate sound and a more enjoyable listening experience. Enjoy music the way the artists truly intended with High-Resolution Audio for crystal clear precision.
The Full Home Entertainment Experience
Simply connect your LG Sound Bar to LG TV and enjoy incredible sound, breathtaking visuals, and a one-of-a-kind entertainment experience.
Movies
DTS Virtual:X Immerses You in Movies
A better experience with DTS Virtual:X and Dolby Vision picture.
Music
Simply Connect via Bluetooth
Enjoy your music with Bluetooth connection.
Sound Engineered for What You Enjoy
With AI Sound Pro, LG Sound Bar's intelligent algorithm analyzes your content to deliver optimal sound whether you're watching movies, catching up on the news, or listening to music.
Good for the Earth from Start to Finish
From production to shipping, the entire process is eco-certified.
SALES/SUB REGION
Sales Region

ASIA

Sub Region

AP,SL,TH,PH,ML,KR
MODEL INFORMATION
Brand Information

LG Sound Bar

Model Name

S65Q

Subwoofer Model Name (SN4)

SPQ5-W, SN4

System (Main Chip)

MT8502

Mainset/Subwoofer Color

Black
SIZE(W X H X D, MM)
Main (w/ Foot )

1000 x 63 x 105

Matching TV size (`20 New)

49" ↑

Subwoofer

171 x 390 x 261
MATERIAL
Main - Front / Top / Bottom

Jersey / Jersey / Mold

Subwoofer - Front / Body

Jersey / Wood
WEIGHT(KG)
Main

2.88Kg

Subwoofer

5.8Kg

Gross Weight

12.4Kg
CARTON BOX
Size (W x H x D) mm

1071 x 465 x 247

Type

Flexo (L)

Color

Yellow
CONTAINER Q
20ft

240

40ft

540

40ft (HC)

720
OUTPUT POWER(THD 10%)
Total

420W

Front

90W(45W+45W)*2

Center

40W

Subwoofer

200W(Wireless)
SPEAKER UNIT_FRONT(L/R)
SPL

83dB

System

Closed

Tweeter Unit

20mm Silk Dome

Woofer Unit

52 x 99 mm

Impedance

4ohm
SPEAKER UNIT_CENTER
SPL

82dB

System

Closed

Woofer Unit

2 inch (Full Range)

Impedance

4ohm
SPEAKER UNIT_SUBWOOFER
SPL

85dB

System

Bass Reflex

Woofer Unit

6 inch

Impedance

3ohm
CONNECTIVITY_GENERAL
Optical

Yes(1)

HDMI In / Out

Yes(1) / Yes(1)

USB

Yes
CONNECTIVITY_WIRELESS
Bluetooth Version

4.2

Bluetooth Codec - SBC / AAC

Yes / Yes
DISPLAY INFORMATION
Display Type

LCD (5 char.)
HI-RESOLUTION AUDIO
Sampling - "24bit/192kHz" / "24bit/96kHz"

No / Yes
SOUND EFFECT
AI Sound Pro

Yes

Standard

Yes

Music

Yes (w/ Meridian)

Cinema

Yes

Clear Voice

Yes

Sports

Yes

Game

Yes

Bass Blast / Bass Blast +

Yes

DTS Virtual:X

Yes
SOUND CONTROL
User EQ - RCU / App

Yes / Yes

Night Time On/Off - RCU / App

Yes / Yes

Dynamic Rage On/Off - RCU / App

No / Yes

Auto Volume Leveler On/Off - RCU / App

No / Yes

Surround On/Off - RCU / App

Yes / Yes

SFX (Default)

Yes

Soundbar Mode Control (by TV GUI)

Yes

TV Sound Mode Share

Yes
HDMI SUPPORTED
Pass-through

Yes

Audio Return Channel (ARC)

Yes

CEC (Simplink)

Yes
CONVENIENCE
Remote App - iOS / Android OS

Yes / Yes

Smart Phone File Playback (Bluetooth)

Yes

NSU / FOTA

No / Yes

Control with your TV Remote (Vol+/-, Mute)

Yes / Yes

Sound Sync - Bluetooth(LG TV) / Optical

Yes / Yes

Auto Power On/Off - Bluetooth (LGTV) / Optical

Yes / Yes

Auto Power On/Off - RCU / APP

Yes / Yes

A/V Sunc (0~300ms) - RCU / APP

No / Yes

Woofer Level (-15 ~ 6dB, 1dB/Step)

Yes

Channel Level (-6 ~ 6dB, 1dB/Step)_Soundbar Main
- Top / Center (Top) / Surround

No / Yes / No

Mute

Yes

Auto Dimmer

Yes

USB Host / Charge

Yes / No

Built-in Music

Yes (1)

Bluetooth Stand-By

Yes
AUDIO FORMAT(BITSTREAM)
LPCM

Yes

Dolby Digital

Yes

DTS Digital Surround

Yes

AAC / AAC+

Yes / No
FILE FORMAT
FLAC - C4A / USB

No / Yes

OGG - C4A / USB

No / Yes

WAV - C4A / USB

No / Yes

MP3 - C4A / USB

No / Yes

WMA - C4A / USB

No / Yes
POWER_MAIN
Adapter

Yes (25V, 2A)

Power Off Consumption

0.5W ↓

Power Consumption

38W
POWER_SUBWOOFER
Type (SMPS, "(SMPS)" Sheet)

Yes

Power Off Consumption

0.5W ↓

Power Consumption

33W

Wireless Frequency

5GHz
ACCESSORY_OTHERS
Optical Cable

Yes

Wall Mount Bracket

Yes
Reviews