SAMSUNG HWQ950T Soundbar with Dolby Atmos and DTS:X
6499
Details
True_9.1.4ch_Sound

 

Up-firing rear speakers

 

Q-symphony

 

Adaptive Sound
The perfect match for QLED.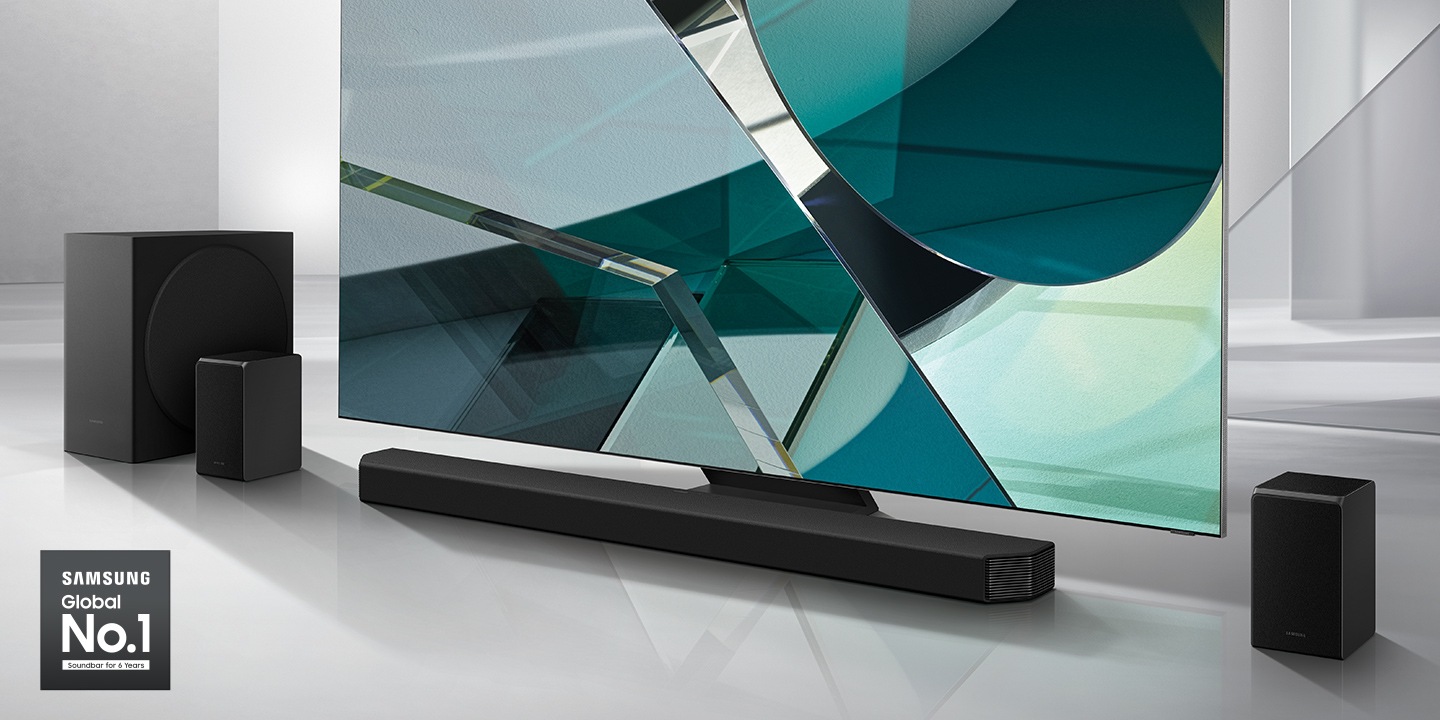 * Images are simulated and for illustration purposes only. The GUI(Graphic User Interface) specifications which is not affecting to product performance are subject to change without notice.* Actual Product may differ from image shown. Please see our product gallery.* TV sold separately.* Applled years(2014-2019) ⓒ2020 Futuresource Consulting
Why choose Q950T?
Immersive Sound quality
- True 9.1.4ch sound
- Up-firing rear speakers included
- Q-symphony
- Dolby Atmos, DTS:X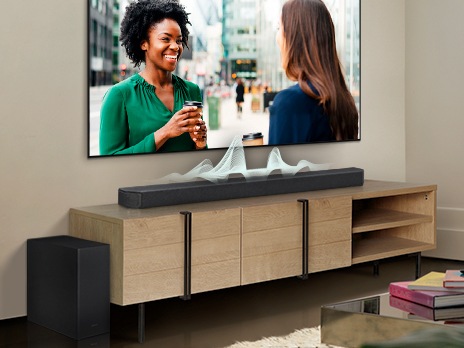 Usability
- Adaptive Sound
- Game Mode Pro
Design
- Premium Design
- Best Fit to QLED
- Textile by Kvadrat
Experts in sound innovation
Samsung Audio Lab
Tested and tuned at the California Audio Lab, where our world-class audio engineers apply the advanced acoustic technologies and cutting-edge computer modeling to give you perfectly balanced, room-filling sound.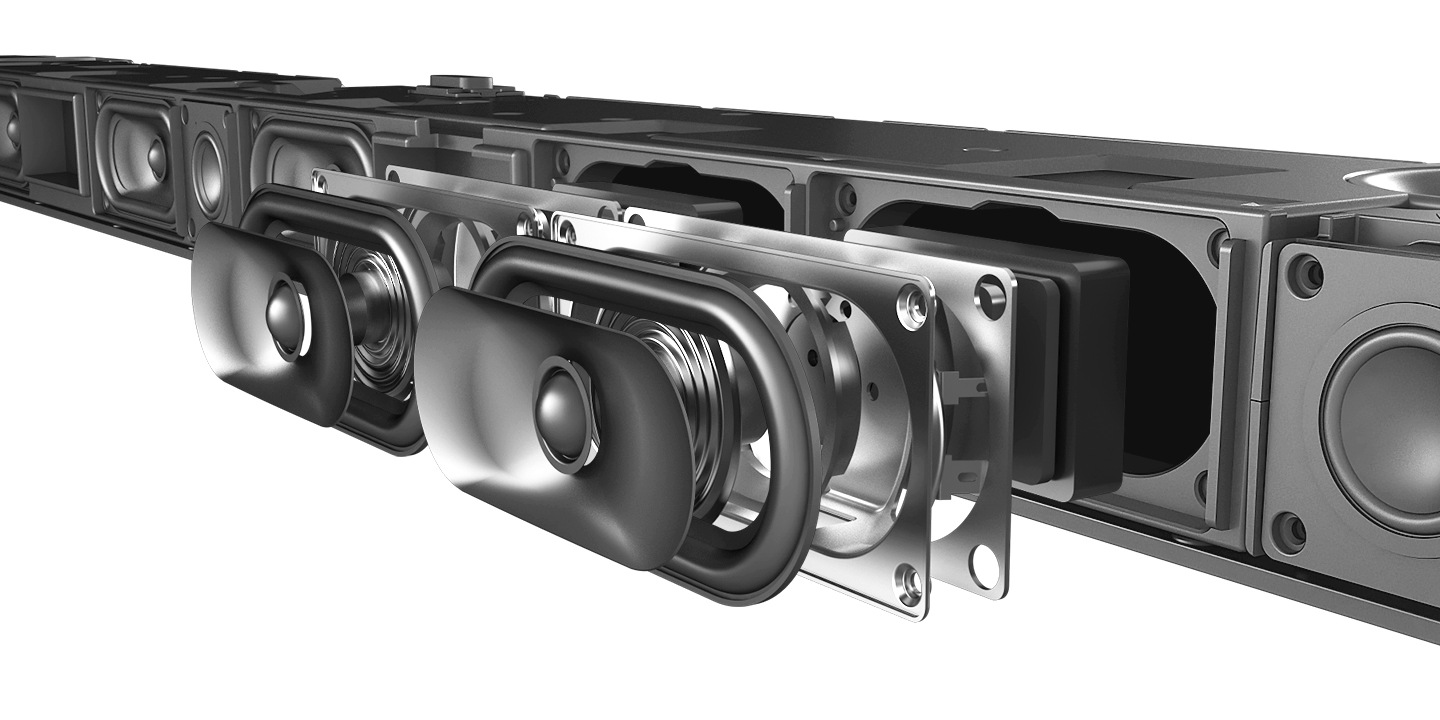 'Our focus starts at the ear of the listener, then expands out to the listening environment – the transducers (woofers and tweeters), amplifiers, and digital signal processors (DSPs).'
Immersing you in captivating sound
True 9.1.4ch sound
The soundbar's 9 channels, 1 subwoofer channel, and 4 up-firing channels envelope you in sound. With newly added wide speakers on both corners of the soundbar, audio fills the space between it and the rear speakers to enhance your surround sound experience — a great match for your QLED TV.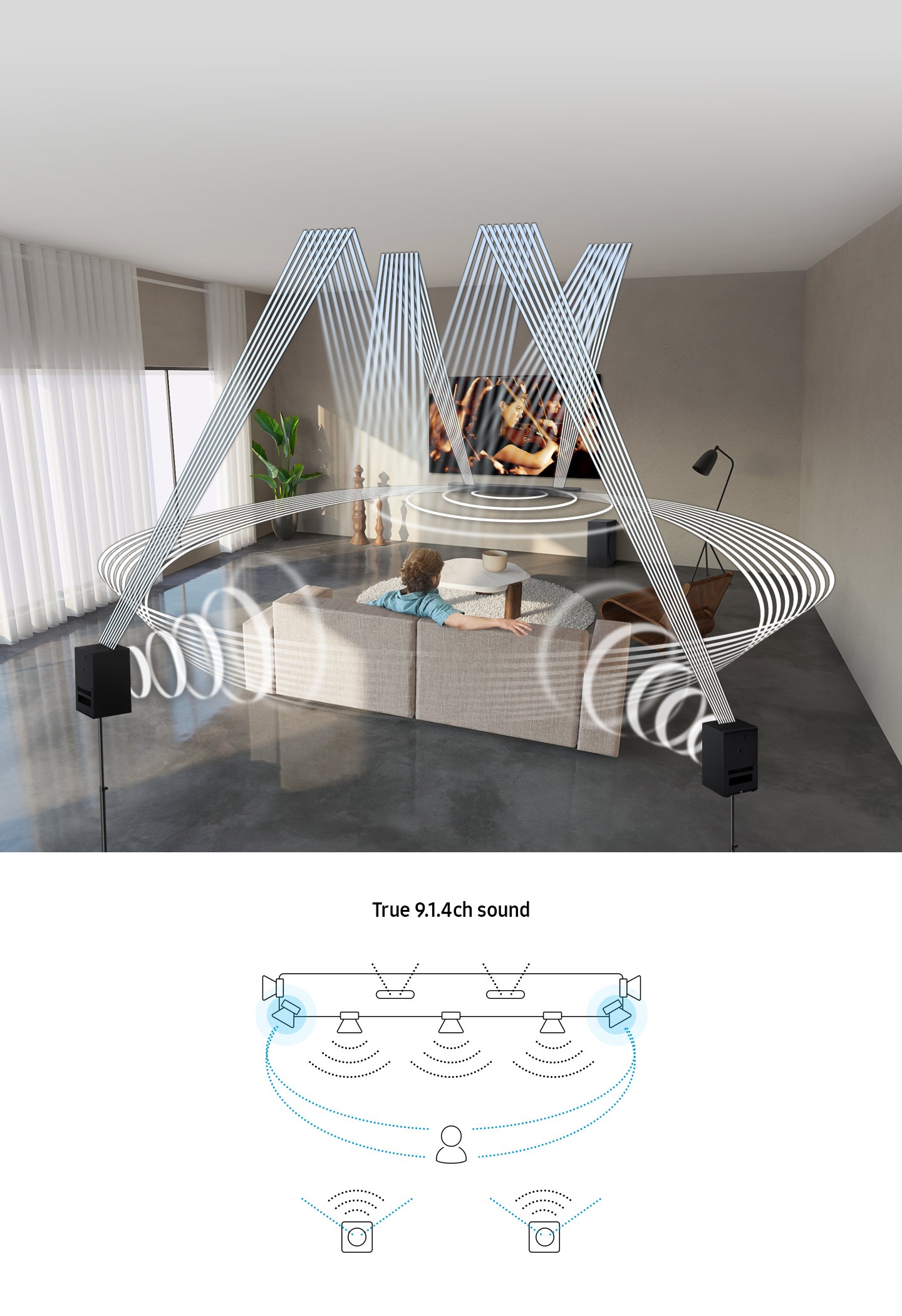 Sound that takes you to the scene
Up-firing rear speakers included
Adding a vertical element for three-dimensional sound, the included Samsung Wireless Rear Speakers with up-firing drivers reflect sound off the ceiling to deliver breathtaking overhead audio — giving you the experience of the theater right in your home.
Elevated sound from every direction
Explore the depths of sound with Dolby Atmos and DTS:X. The two let you hear each distinct sound as it flows around and above you, just as you would in real life.
Q-series Soundbar and TV, the perfect harmony
Q-Symphony
The Soundbar Q950T syncs with your Samsung TV, together creating immersive sound. It combines and enhances sound through the soundbar's front, side, and up-firing speakers as well as the TV's speakers, giving you a new level of acoustic immersion so you can experience content like never before.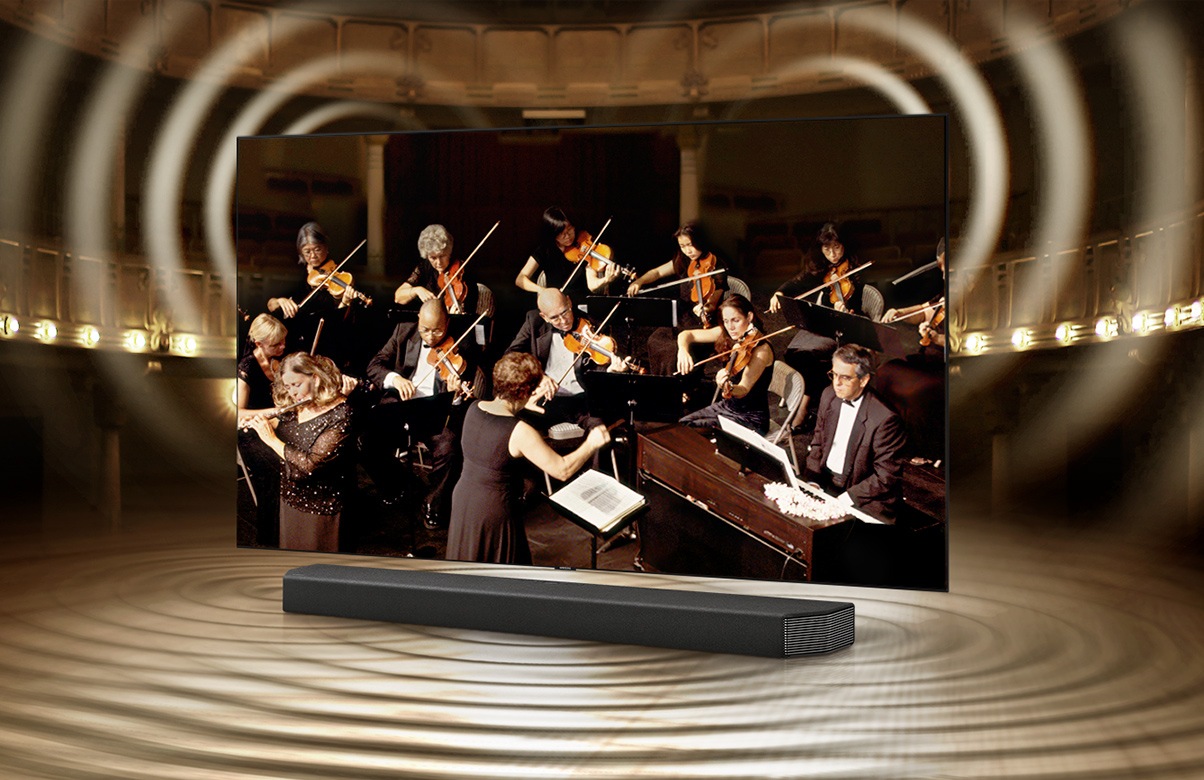 * Features may not be compatible with all Samsung TVs.* Functions may vary by TV model.* Function requires only wired connection to TV, not including wireless connection to TV.
Hear better. Play better
Game Mode Pro
Brace yourself for a powerful, immersive gaming experience with subwoofers that enhance the scene and up-firing speakers that provide incredible surround sound. The soundbar automatically switches to Game Mode when connected to your Samsung TV so you can focus on playing, not setting up.
* Compatible TVs and game consoles only. (over Xbox one, PS4, Nintendo Switch)* Game console sold separately.* Compatible devices may vary.
A sound connection boost
HDMI eARC
With HDMI eARC, you can hear quality, lossless sound even when connected to other devices via your TV like UBD players or game consoles.
Connect, listen, enjoy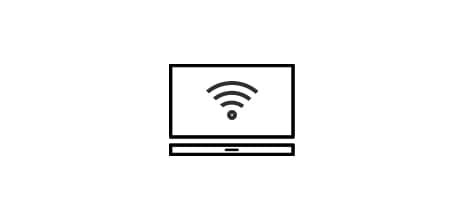 Wi-Fi TV connection
Want to enjoy your favorite shows or music? Just connect your TV to the soundbar using Wi-Fi TV Connection and hear the soundbar audio come through your TV crisp and clear.
* Please check whether your TV is Wi-Fi compatible.* Soundbar must be connected to a network for the service update. * This service availability may not yet be available at the time of purchase of this product.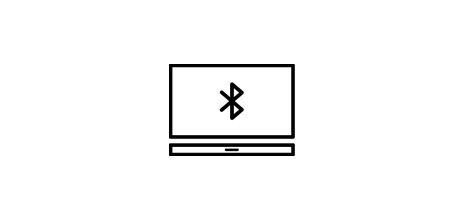 Bluetooth® TV connection
Simply use Bluetooth to connect the soundbar to your Samsung TV and enjoy your favorite content right away.
* Please check whether your TV is Bluetooth® compatible.
Sound as good as the picture
Seamless HDR 10+ experience
Experience the sensation of sound in HDR 10+ content as you should. When you connect HDR 10+ content to the soundbar through other devices, you get lossless, nuanced audio to match detailed picture.
* HDR 10+ picture quality output available with equivalent input.* Compatibility with all HDR content is not guaranteed.
A world of sound with one remote
One Remote Control
You don't need several remotes. Control key soundbar functions like power, volume, and even sound effects with the Samsung TV remote — right from your TV.
* Function and remote control design may vary by TV model and region.* Compatible with selected Samsung TVs. Please check the Samsung TV's specification.
Craftsmanship beyond sound
Textile by Kvadrat
A sound system with exceptional sound that has high-quality design to match. The unibody soundbar and accompanying speakers are accented with Kvadrat fabric, a timeless textile that enhances how you see sound. It's a refined experience that blends into any room of the home.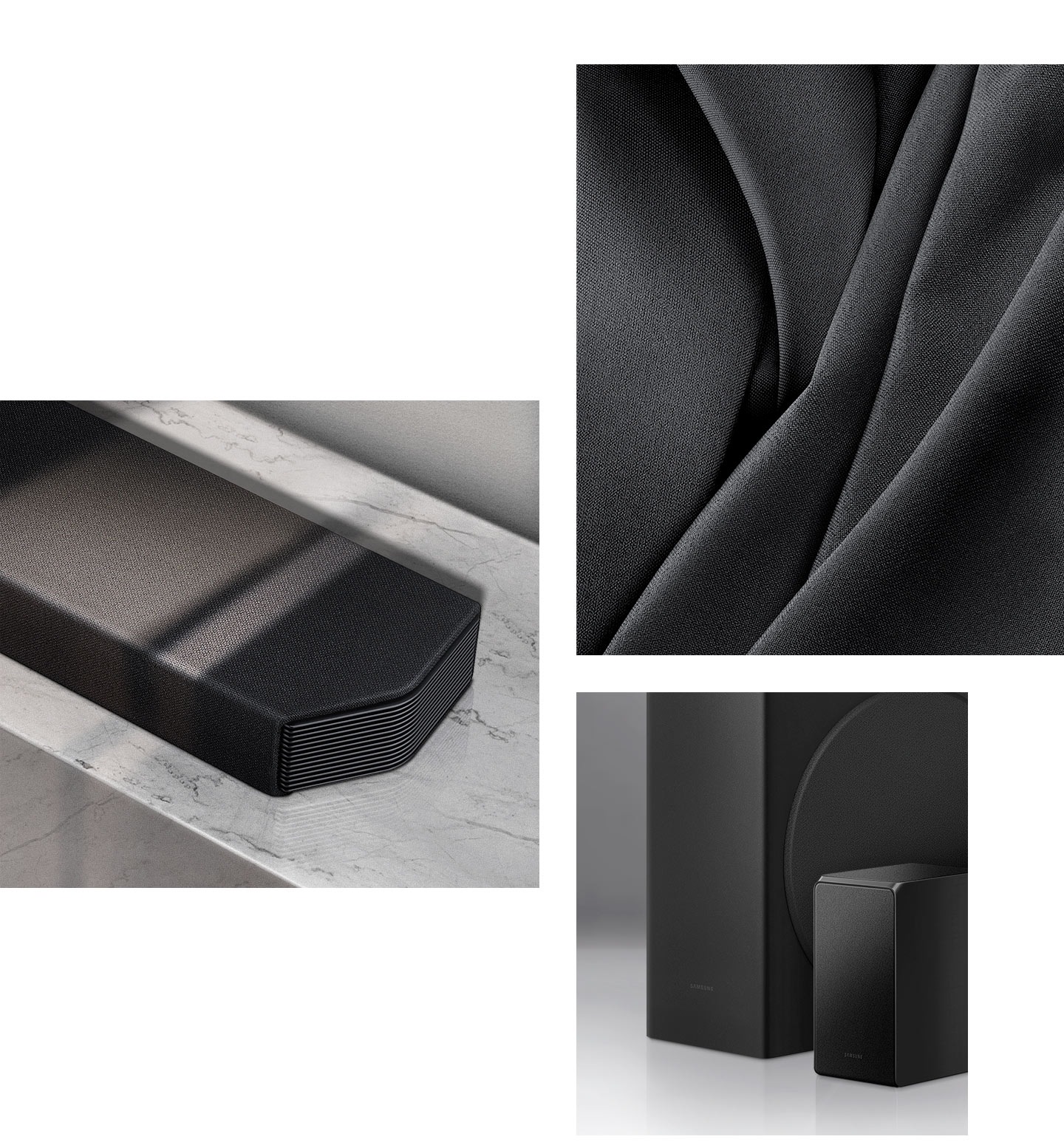 One app to listen smart
SmartThings App
Take connected living to the next level. SmartThings app lets you add your speakers to your network, giving you greater control over your audio throughout your smart home.
* Each device must be connected to Wi-Fi or other wireless network.* Must download and install the SmartThings app.* For interoperability through SmartThings, all the devices should be registered with a single Samsung Account.* Available functions may vary by region, service provider, network environment, or mobile device, and are subject to change without notice.
Specifications
 

Number of Channel

9.1.4 Ch

 

Subwoofer Type ( Active / Passive / Wireless, Bulit-in )

Wireless Active

 

Gross Dimension (WxHxD): One Packing

1303 x 621 x 277 mm

 

Gross Weight (One Packing)

27.8 kg

 

Stand-by Power Consumption (Main)

0.45 W
Specifications Detail
General Feature
Total Power

546W

 
Number of Channel

9.1.4 Ch

 
Number of Speaker

20
Speaker
Subwoofer Type ( Active / Passive / Wireless, Bulit-in )

Wireless Active

 
Center Speaker

Yes

 
Up-firing Speaker

Full Range

 
Side-firing Speaker

Full Range

 
Wide Range Tweeter

Yes

 
Acoustic Beam Technology

No

 
Wireless Rear Speaker Included

Yes

 
Wireless Rear Surround Speaker Ready (Compatible)

N/A
Audio Feature
Dolby

Dolby Digital Plus,Dolby True HD,ATMOS

 
IMAX

No

 
Sound Modes

Standard,Game Pro,Adaptive,Surround Sound Expansion

 
Distortion Cancelling

No
Video Feature
4K Video Pass

Yes

 
HDR

HDR 10+
Decoding Format
AAC

Yes

 
MP3

Yes

 
WAV

Yes

 
OGG

Yes

 
FLAC

Yes

 
ALAC

Yes

 
AIFF

Yes
Connectivity
HDMI In

2

 
HDMI Out

1

 
HDMI ARC

Yes(eARC)

 
HDMI CEC

Yes

 
Optical In

1

 
Audio In

No

 
Bluetooth

Yes

 
Bluetooth Codec

SBC

 
Bluetooth Multi Connection

No

 
Wi-Fi

Yes

 
USB Music Playback

No

 
Ethernet Port

No

 
One Remote Control

Yes

 
Bluetooth Power On

Yes

 
NFC

No
Special Feature
Smart Things App (Changed from Samsung Connect App)

Yes

 
Q-Symphony

Yes

 
Bixby

No

 
Alexa

Built-in

 
Spotify Connect

Yes
Dimension
Net Dimension (Main Speaker) (WxHxD)

1232 x 69.5 x 138.0 mm

 
Net Dimension (Wireless Module) (WxHxD)

-

 
Net Dimension (Rear Speaker) (WxHxD)

120.0 * 210.0 *141.0 mm

 
Net Dimension (Sub Woofer) (WxHxD)

210 x 403 x 403 mm

 
Gross Dimension (WxHxD): One Packing

1303 x 621 x 277 mm
Weight
Net Weight (Main Speaker)

7.1 kg

 
Net Weight (Wireless Module)

-

 
Net Weight (Speaker)

2.1 kg

 
Net Weight (Sub Woofer)

9.8 kg

 
Gross Weight (One Packing)

27.8 kg
Power
Stand-by Power Consumption (Main)

0.45 W

 
Stand-by Power Consumption (Rear)

0.33W

 
Stand-by Power Consumption (Subwoofer)

0.45W

 
Operating Power Consumption (Main)

47W

 
Operating Power Consumption (Rear)

13W

 
Operating Power Consumption (Subwoofer)

28W

 
Free Voltage

Yes

 
Energy Star

Yes
Accessory
Remote Controller

Yes

 
Wall Mount Bracket

Yes
Reviews